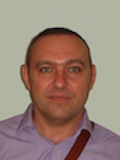 Dr. Dimitris Zisiadis
Laboratory Teaching Staff
Address:
78, October 28th street, 2nd floor
Volos
Short C.V.:
D. Zisiadis acquired his diploma and his Master's degree in "Computer Networks and Digital Communications" from the Computer Science Department, University of Crete in 1992 and 1994 respectively. In September 2010 he received his PhD in "Security & Network Management In Modern Telecommunications Networks" from the Department of Computer & Communication Engineering, University of Thessaly.
While undergraduate student he worked as a Network Engineer at the Computer Center of the University of Crete, supporting the node of EARN/BITNET in Greece (GREARN) and the SNA, X25 and TCP/IP networks for the University.
After graduation, he worked as a Networks Analyst at FORTH (Foundation for Research and Technology Hellas) where he was involved in the design, implementation, monitoring and support the IP and X25 networks of FORTH.
In 1994, he was Networks Specialist at FORTHnet, in the group appointed to build the first multi-protocol network in Greece. He was involved in the design and implementation of the WAN network (E1's, fractional E1's) LAN networks (10baseT, 100baseT) and access networks (dial in, PRI, leased lines, baseband links Nx64Kbps, G703/704). During the implementation he worked on LAN hubs and switches, Cisco routers (2500, 4000, 3600, 7200, 7500) access modems, terminal servers, network access servers, SUN(UNIX) workstations and servers, network monitoring equipment and tools, network management, routing (RIP, IGRP, OSPF, BGP) and load balancing routing schemes. He was responsible for the IP numbers registration (RIPE's last resort IP registry for Greece) and for the domain system in Greece (DNS - Hostmaster for the .GR domain). He designed and implemented Internet Services (dialup and LL connectivity, VPN's, value added services) and participated in the design of the Accounting, Billing and MIS systems.
In 1995, as a Technical Manager of FORTHnet he implemented the first ATM/Frame Relay services network through Stratacom/Cisco IGX switches. He designed the network, installed the ATM/Frame Relay service network nodes and formulated the CPE requirements for connecting to the network (FRADs and routers from multiple vendors – approve list). He was also responsible for the interconnection of FORTHnet's ATM and Internet networks with the PTT and foreign carriers (like MCI). He also supervised the implementation of VSAT station in Athens (3.7m Andrew Earth Station Antenna) and implemented Internet over Satellite services.
In 1998, he works in the Business Development division of FORTHnet. Among his major responsibilities are the International relationships and the Carrier relationships (PTT, Satellite, wireless). He designed and supervised new services (Voice, Voice over Frame, Voice over IP, etc). He also designed and supervised the deployment of wireless networks in the licensed-free spectrum of 2.4 GHz and performed evaluation and feasibility studies in point-to-multipoint wireless systems (FWA, Fixed Wireless Access Systems). Moreover, he is representing the company in organizations and committees like the Ministry of Communications and the National Regulatory Authority (EETT).
From May 2000 to September 2001, he worked for WorldCom as the Customer Service and Operations Manager for Greece. During this time he had a major contribution to the establishment of the company, he implemented WorldCom's network in Greece and he organized the Service Delivery and Customer support functions.
He is a Research Associate of the University of Thessaly as of 2003 while from 2004 to 2012 he was a Research Associate of the Centre for Research & Technology Hellas (CERTH).
He participated in numerous European and National research project.
His main interests are in the area of computer networking, Internet services, security and network management, Informatics in Economics.
Links
Contact Form