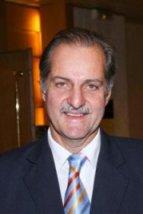 Dr. Nikos K. Kyriazis
Professor
Address:
78, October 28th street, 2nd floor
Volos
38333
Short C.V.:
Nicholas C. Kyriazis combines academic and business experience. Prof. Dr. Nicholas Kyriazis took his diploma and Ph. D. in Economics in Bonn University Germany in 1979 and has been a visiting Professor at Harvard University with a Fulbright grant and a visiting Professor at Trier University.
He is currently Professor at the Economics Department, University of Thessaly, Greece, where he also served as a Dean during the 2013-2015 period. He has published 13 academic books in English or Greek language, 55 papers in international referred academic journals (including among others: European Journal of Law and Economics, Journal of Institutional Economics, Business History, Theory and Society, Communist and Post-Communist Studies, Journal of Economic Asymmetries, Economics of Governance, Defense and Peace Economics, Evolutionary and Institutional Economics Review and Homo Oeconomicus) and 26 papers in book chapters (collective volumes).
In 2005 the President of the French Republic honoured him with the France's highest decoration, the Knight of the Legion of Honour (Chevalier de la Legion d' Honneur) for his contribution to the European integration and the preparation for the EMU as a member of the Delors-Moreau committee. Ηe was the Head of the Department of Economics, University of Thessaly during the 2013-15 period. He has also published many articles in journals for a wider audience and articles in the Greek press, for economic, political and defense issues.
Previous business positions he held include (among others): Directorate General for Research of the European Parliament, advisor to the government of the National Bank of Greece, advisor to the Minister of Finance and advisor to Minister of Defence since 1998 and contributed as one of the major consultants for the Greek Command, Control, Communications, Computers and Military intelligence (C4I). He was also secretary of the National School for Public Administration.
Links
Contact Form